Okay, this was my first crack at making meringue. And, as I expected, my meringue kind of failed. I remember watching
Barefoot Contessa
(you know, the one with Ina Garten--not the Bogart movie) and just drooling over the berry pavlova she made. And, she made it look so effortless. I'm sorry, but damn that Ina!
Whipping up the actual thing was pretty easy and not at all labor intensive since I have a giant stand mixer. But, baking the sucker was tricky. I followed the recipe I found
here
. And, well, you'll see.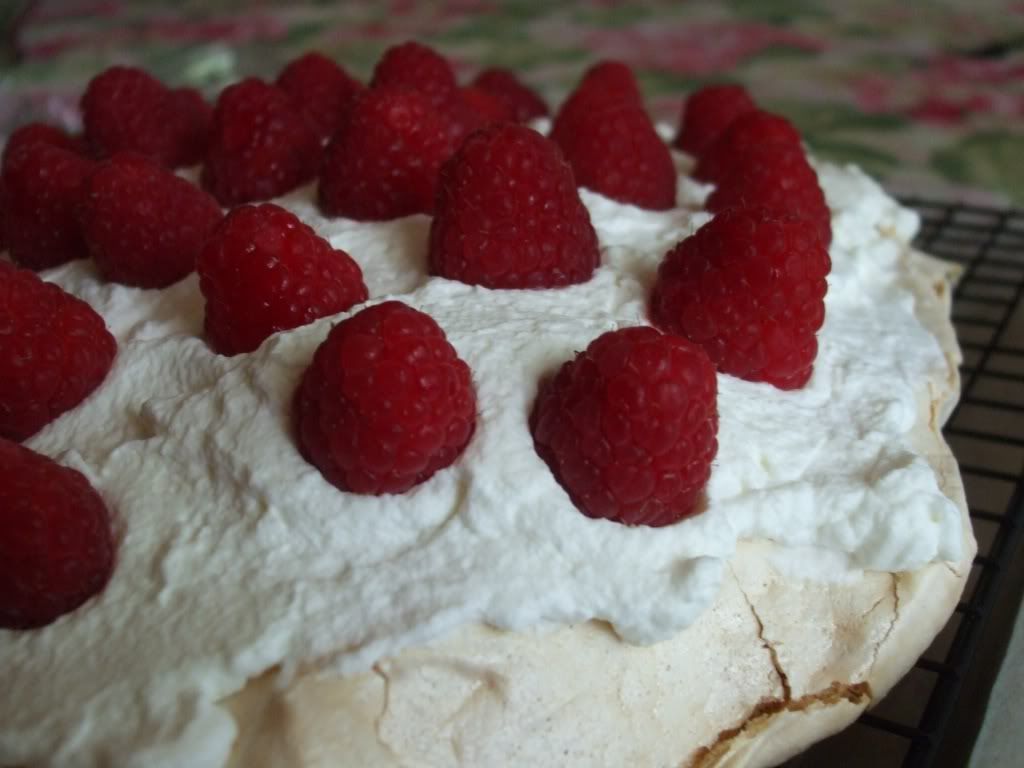 My meringue browned and cracked! The temperature was too hot. The center was all marshmallow-y, but the outer part sort of separated from the inside, and got all crackly and crisp. I've eaten meringue before, so I know that crispy is good. But, this was not good crispy.
I didn't use Ina's recipe (found
here
) because I saw the reviews and got all skeptical. I saw that the meringue was to be baked at 180 degrees Fahrenheit for this recipe and thought it was too low. Well, I guess I was wrong. Forgive me, Ina. Who did I think I was to ever doubt you?
Anyway, the pavlova itself turned out semi-pretty because I lathered it with barely sweet whipped cream to cover up the bad spots. I mean, I have to say--the taste wasn't bad. Other than the crackly "crust" and chewy edges that is. Fear not, though. I'm not giving up on this thing. I'll make the perfect meringue sooner or later. I'm still young. Here's the recipe I used
with modifications
.
Pavlova
4 egg whites
1 cup of sugar (don't reduce it. the ratio of sugar to egg white is supposed to be 1/4 cups : 1 egg white)
1 tsp vanilla extract
1 tsp lemon juice or vinegar
2 tsp cornstarch
1 pint of heavy cream
1 tbs sugar
about 1 tsp of vanilla (I eyeballed it using the cap)
Any fruit you want
Preheat the oven to 250 degrees Fahrenheit (the original recipe said to preheat the oven to 300 degrees. Please don't do that). Line a baking sheet with parchment paper, and draw a 9 inch circle on it. Turn it over. We don't want a pencil mark on our meringue!
For the meringue, whisk the egg whites on high for about 3 to 4 minutes, or until soft peaks form. Add the sugar slowly under medium speed.
Turn your mixer up on high and continue beating it for 5 to 6 more minutes, or until it's glossy. Turn your mixer way down, and just stir in the vanilla, lemon juice and cornstarch. Do not overbeat.
Spread the egg white mixture on your baking sheet while staying inside the 9 inch circle. I would recommend using the good sized baking sheet because this thing grows. Bake it for about 1 hour. Do not open the oven door during baking. That's how you get jacked up meringue.
After the meringue is done, turn off your oven and let it rest inside the oven for at least 2 hours with the door just cracked open. This is how you get a nice, dry meringue.
For the whipped cream, whip the heavy cream until it starts to thicken. Add the 1 tbs of sugar and the vanilla. This makes a barely sweet whipped cream, which was perfect since the meringue is sweet enough.
After the drying period, slather your meringue with the whipped cream and top with your choice of fruit. As you can see, I chose raspberries.
I hope you have a better luck with this than I did. Tell me how you do if you decide to make this. Happy baking!